#1 Dumpster Rental Columbia TN and Surrounding Cities
At Do It Yourself Dumpsters, we have your back with all of your dumpster rental Columbia TN needs. We prioritize putting our customers first and providing excellent service at cost-effective rates. We understand the importance of convenience when choosing a dumpster in Columbia, which is why our online booking system is the best tool for residential, construction, or commercial needs. Our easy-to-use online booking system allows you to take control and rent a dumpster Columbia TN all on your schedule. Your residential and construction clean-up gets a whole lot easier with our team of roll off professionals.

Our mission is to provide an efficient and affordable way to rent dumpsters that our customers in Columbia, Tennessee, and beyond can count on. When our customers choose us for their dumpster rental Columbia TN company, they know our containers stand out for their durability and price point. You don't need to break the bank for a container rental. We do our best to keep our prices low and our standards high. That is why customers choose us to rent a dumpster Columbia TN!

You don't need to be an expert to rent a roll off dumpster Columbia, especially with us! Our professional and personal customer service team is always ready to answer any questions you might have during this process. When you choose us for your dumpster rental Columbia TN, you can rest assured you'll receive your bin on time when you need it. Our bins are designed to remove the junk and make your life easier in the process. Get in touch with us by calling (615) 290-2029 or use our online booking tool to schedule your roll off today!
  Dumpsters

Our dumpsters are distinct from our competitors due to their dimensions being taller than average while still maintaing a full 20-yard product. This taller can provides a smaller footprint taking up less space in your project area. We also have a full back door that swings open, accomodating to even the biggest of project needs!

Weekly Rental - $550

2 Week Rental - $605

Monthly Rental - $785

DEMOLITIONS - If you have a demo job for us, give us a call to receive a custom bid!
We Take Just About Everything
Some examples of the junk we haul away include
Refrigerator Disposal

Garbage Removal

Mattress Disposal

Foreclosure Clean Outs
Construction Waste Removal

Yard Waste Removal

Trash Removal

Appliance Removal
Television Disposal & Recycling

Furniture Removal

E-Waste Disposal

Hot Tub Disposal
Various Uses for Dumpster Rental Columbia

Whether you're sprucing up your deck, cleaning out a public space, or just need to de-clutter, our expert dumpster rental Columbia options are here to make the clean-out process quick and simple. For all of your residential or commercial rental needs, the experienced team at Do It Yourself Dumpsters is here to help.

If you're starting a fun DIY remodeling project in that spare bedroom, our smaller 10 yard Columbia roll off dumpster options are built for single-room renovations and smaller construction projects. If you're a contractor in search of the best dumpster rental Columbia to add to your job site, our 20 yard dumpster will help keep you on track and waste-free. We work closely with Mary County Waste Solid Waste to ensure your trash and junk are disposed of in a legal and safe manner.

No matter the size or scope of your upcoming project, we're here to help guide you through the process each step of the way. Our name is Do It Yourself, but we're always here to help with your Columbia TN roll off dumpster rental. Give us a call at (615) 290-2029 or reserve your roll off online today!

Residential Dumpster Rental Columbia

We are the go-to company for residents in Maury County when looking for a residential dumpster rental Columbia. Our residential customers don't stress when they have a new project because they know we have the perfect rental to suit their needs. Whether it's spring cleaning, an attic cleanout, or household renovations, Do It Yourself Dumpsters is guaranteed to have a Columbia TN dumpster rental that will support your project.

A residential dumpster rental Columbia is a convenient tool for a wide range of home projects, including smaller-scale renovations, repairs, attic or garage cleanouts, estate sale preparation, downsizing, appliance removal, yard work, and so much more.

Many residents trust us with their Columbia TN residential dumpster rental process because they know we make the process easy, straightforward, and affordable. Our user-friendly online booking system allows Maury County residents to book their Columbia residential dumpster rental with ease. Get started on your at-home project with peace of mind that you'll be working with a dependable, trustworthy, reasonably-priced container rental company. Work smarter, not harder with the friendly team at Do It Yourself Dumpsters.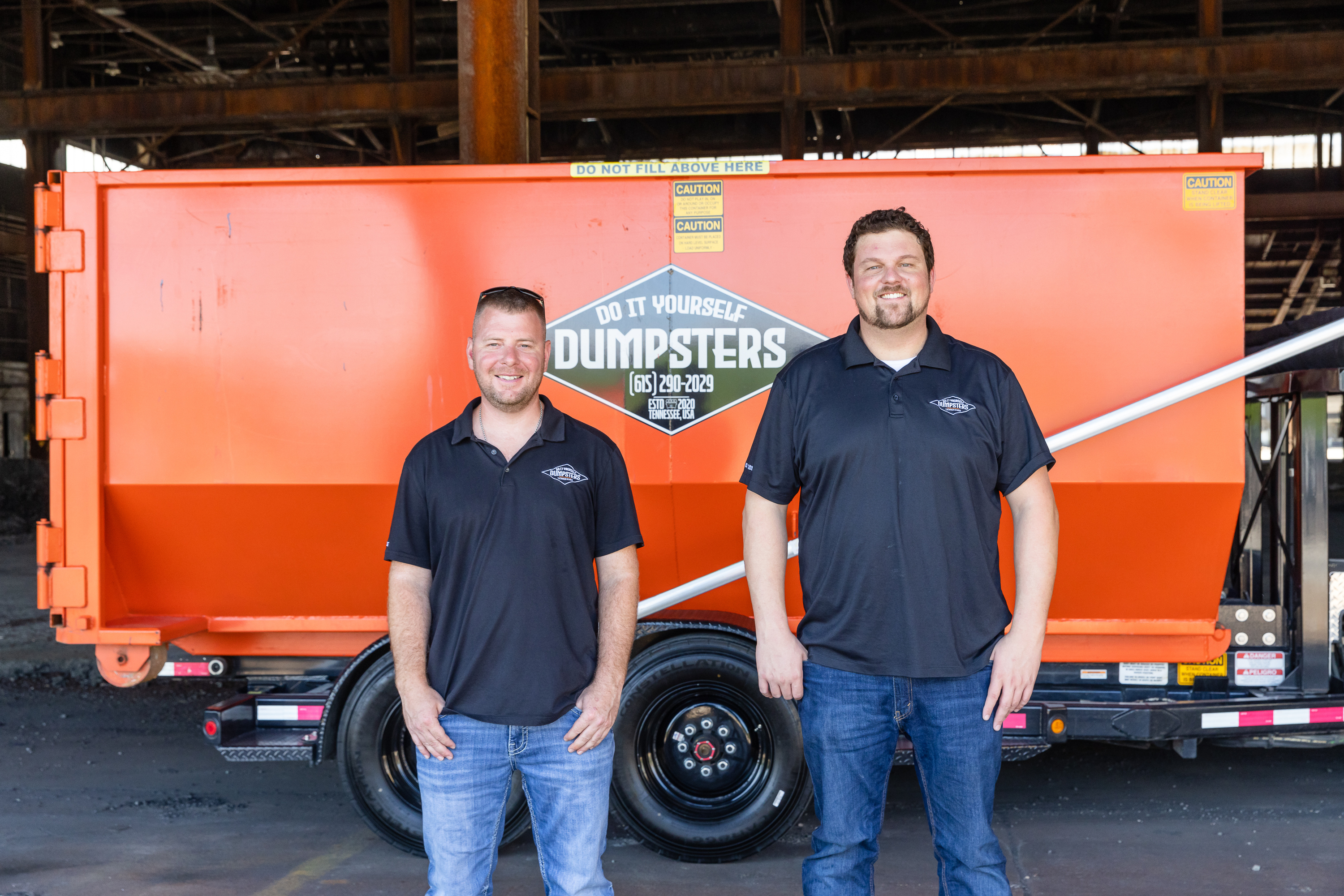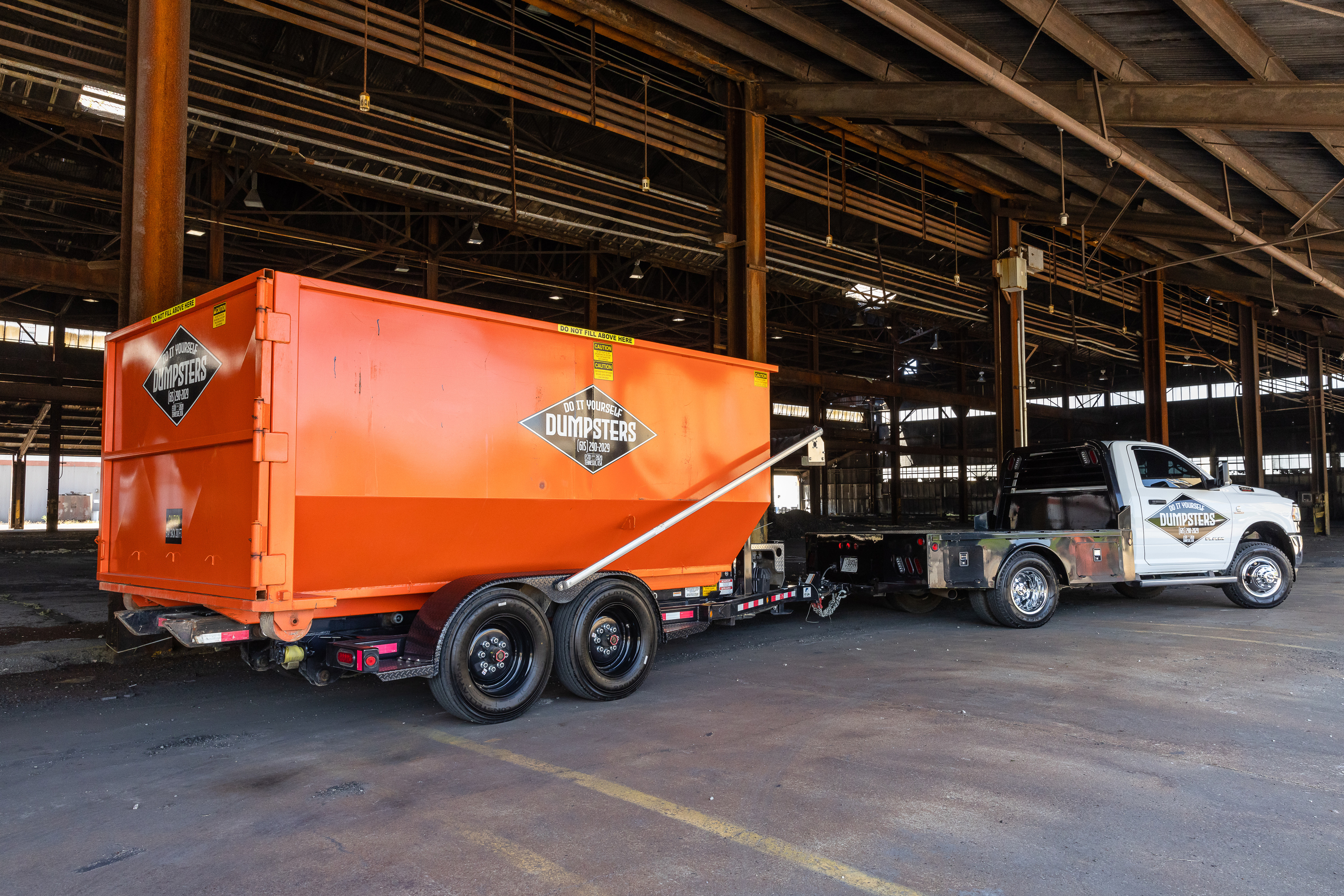 Yard Waste Roll Off Dumpster Rental Columbia

We know all too well that in Tennessee, yard work is a constant chore, which is why our roll off dumpster rental Columbia is a great asset to have on hand for your next yard project. Whether you're repairing the patio or deck, redesigning your landscaping, or clearing out the flower beds, a roll off container makes it easy to collect all the waste, then we'll haul it away!

Yard work isn't easy, but we try to lighten the load with our convenient booking options, flexible scheduling, and affordable residential dumpster rental Columbia TN. Traditional trash services might not pick up the volume of waste you're collecting, but with our services, you'll know exactly how much will fit in your roll off dumpster rental Columbia and what's included in your rental. For up to seven days, you'll have access to your rental, giving you plenty of time to fill it up on your schedule at your own pace. Need additional days? No sweat. Just get in touch with our team at (615) 290-2029 to add to your rental period.

Construction Dumpster Rental Columbia TN

Contractors and business owners understand the importance of working with a trusted construction dumpster rental Columbia TN company for their projects. Job sites can be a mess, but Do It Yourself Dumpsters is here to clean it up! We are the most affordable and experienced companybecause we guarantee on-time delivery, flexible scheduling, and competitive rates for our durable, heavy-duty containers. We're happy to have partnered with dozens of contractors over the years to provide our Columbia TN construction dumpster rental options for a varied scale of projects and job sites.

We all know materials, waste, and debris stack up quickly on job sites, which is where our amazing Columbia construction dumpster rental options come into play. Our 15 and 20 yard dumpsters are the perfect container options for all construction companies. Our various size dumpsters make any project easy, including the big ones. Our 20 yard construction dumpster rental Columbia TN is just what you need to dispose of all that construction waste you've gathered up throughout your project. Construction companies choose us as their go-to rental company because they know we get the job done right the first time.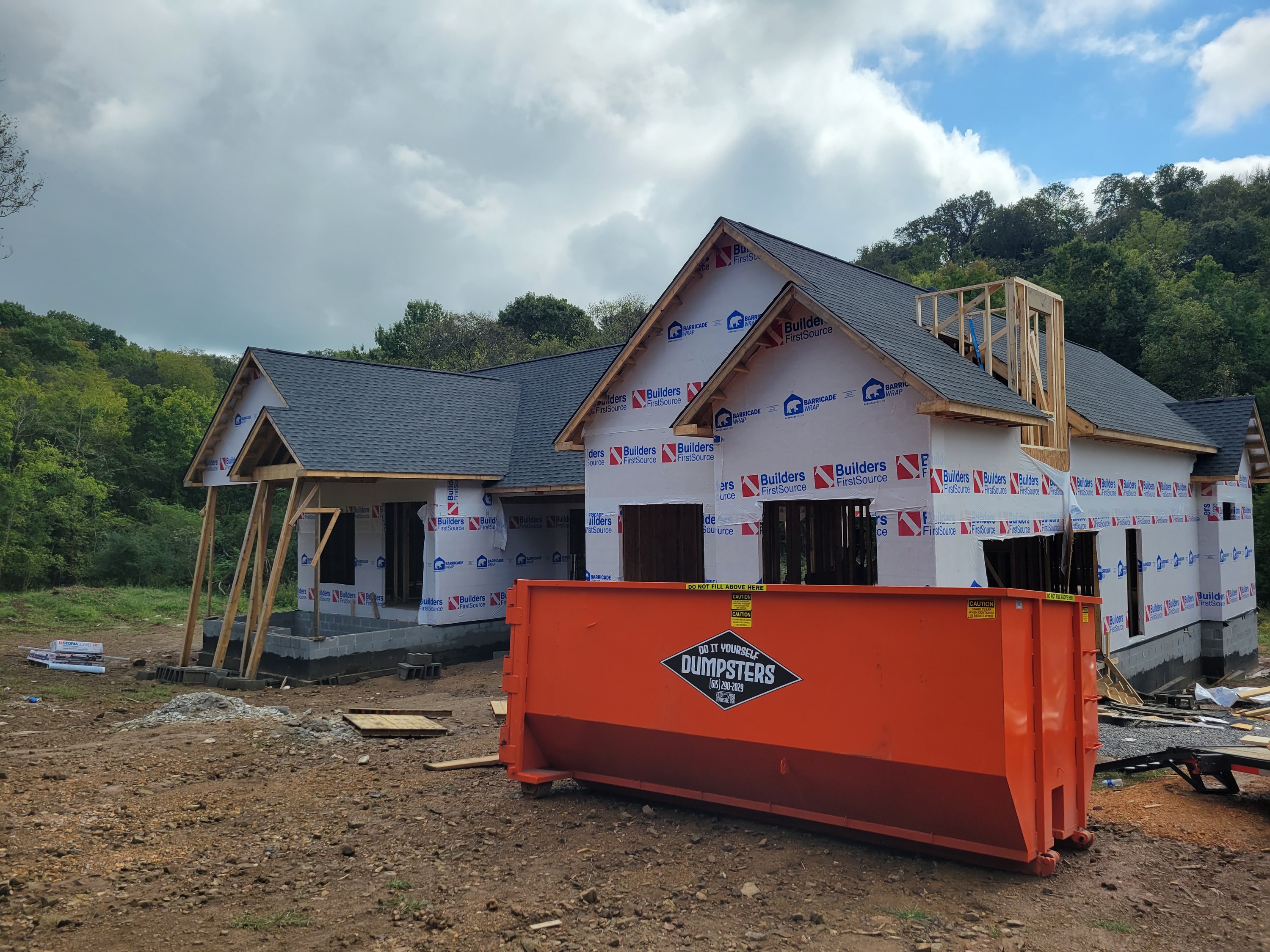 Commercial Trash Dumpster Rental in Columbia

As a business owner or property manager, it's crucial to have a trusted trash dumpster rental in Columbia on-site to support your various disposal needs. Whether you're interested in long-term, ongoing waste management or need help with a one-time pickup, we're here to discuss the best options for your situation.

We pride ourselves in offering a range of options and prices to suit every Columbia garbage dumpster rental need. Our many repeat customers choose us repeatedly for their ongoing waste management services because they know we offer the most affordable, high quality, and versatile selections for their trash dumpster rental in Columbia.

No matter what your garbage dumpster Columbia needs are, our team is here to help guide you through each step of the process. Reserve your roll off container online today or get in touch with us at (615) 290-2029.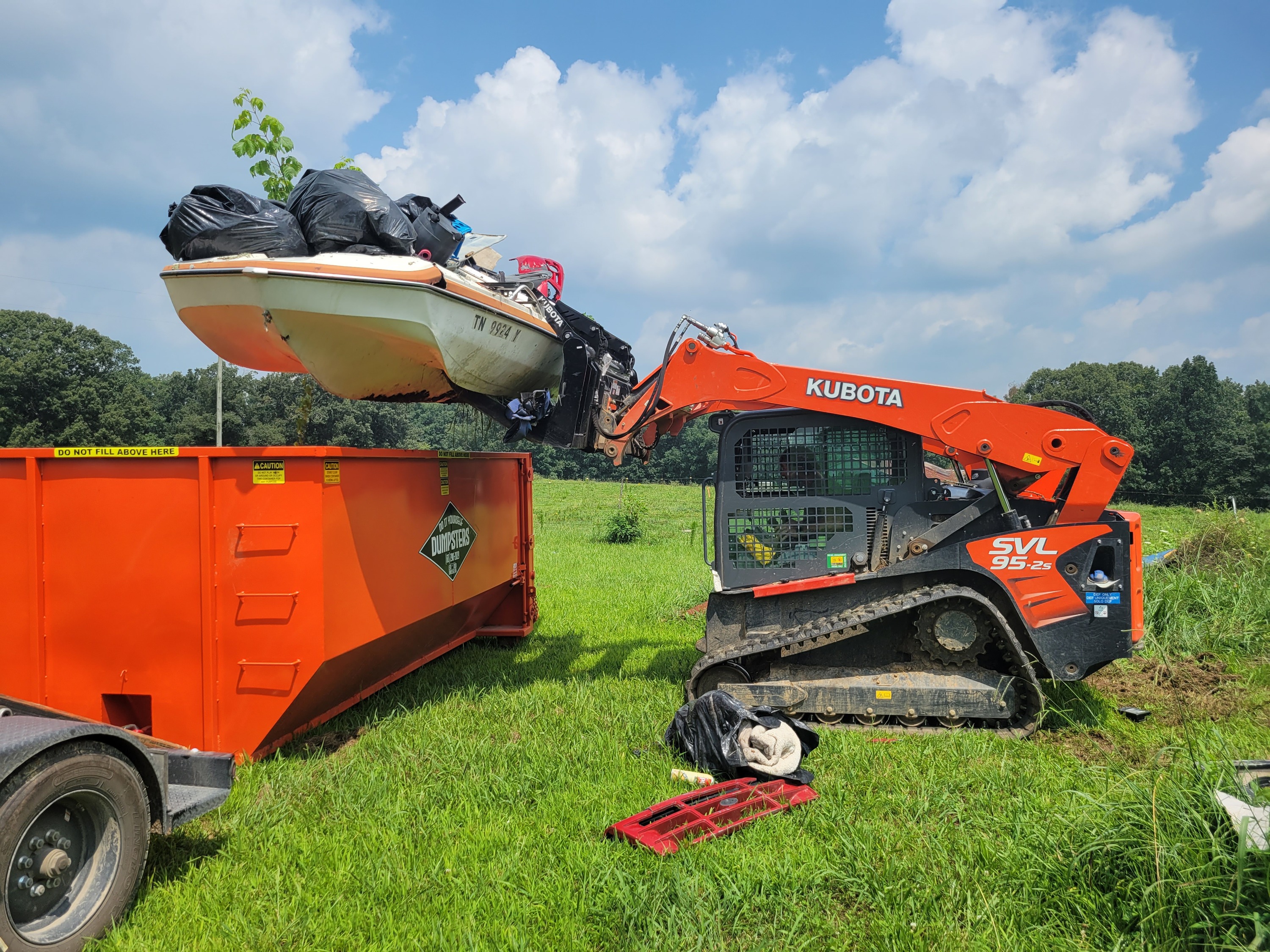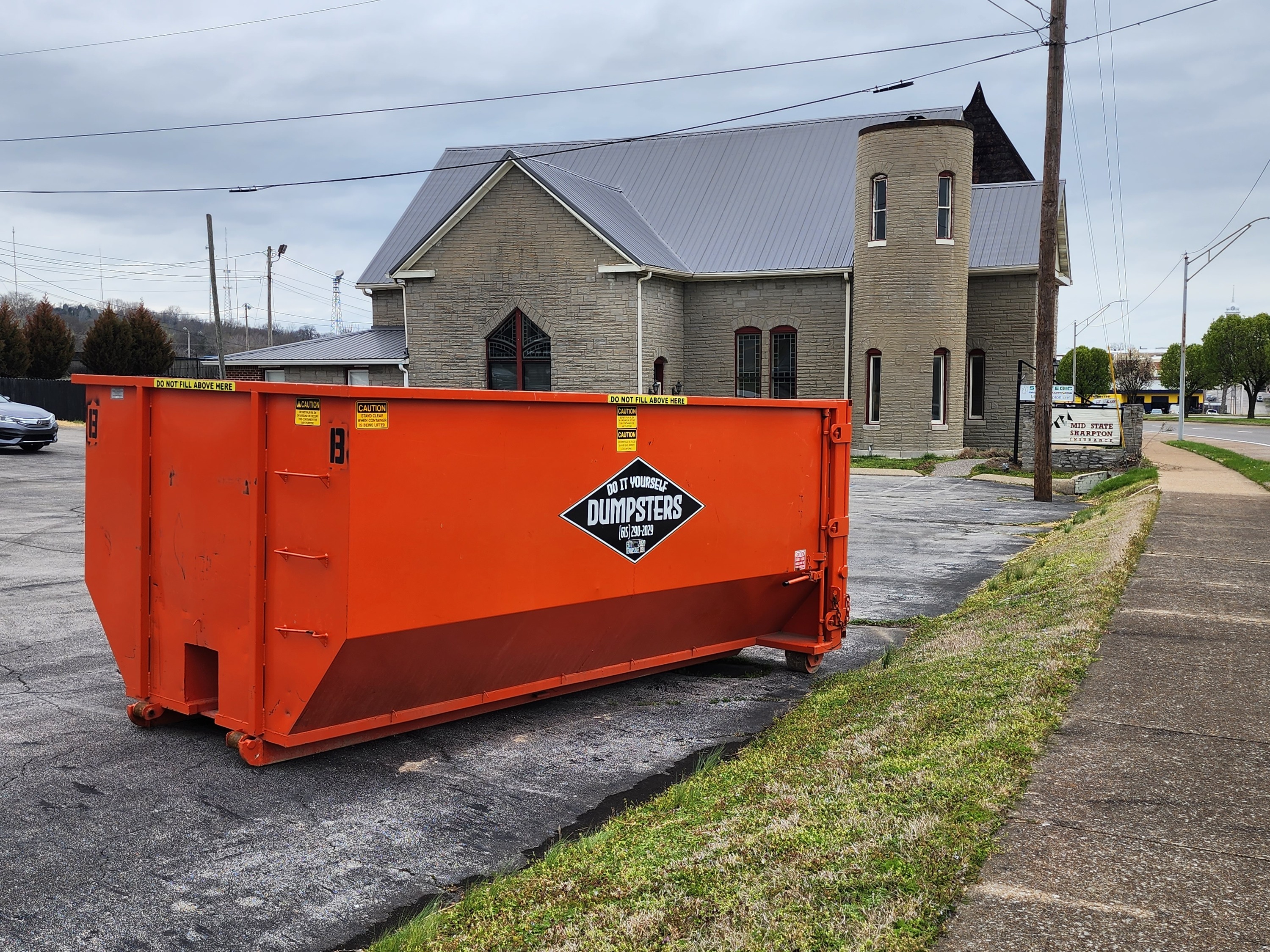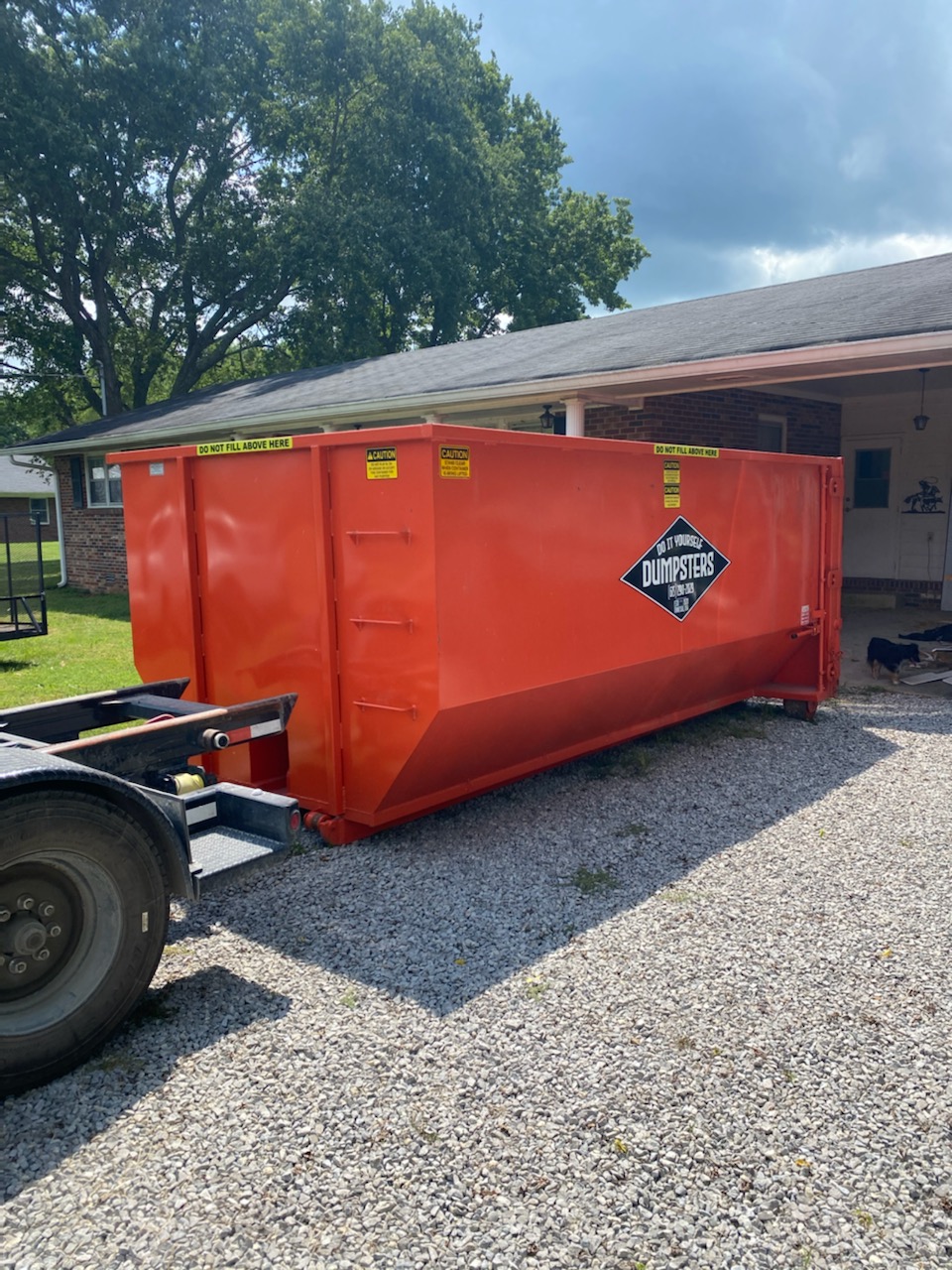 How to Book Columbia Dumpster Rental

With Do It Yourself Dumpsters, booking our Columbia dumpster rental is an easy task. We have an easy-to-use online booking system that was created just for your convenience. With our online scheduling system, you can rent a container anytime you want, all from the comfort of your home. With our team, you don't have to stress about trying to book a dumpster Columbia.

Our online system is easy to use. First, you need to pick which size dumpster in Columbia TN is right for your project. Then click book now and the orange "Add to Cart" button. Fill out your information and choose the dates for your rental. Once completed, your reservation will be set and ready to go! We deliver your high-quality Columbia dumpster rental to you and when you're finished, just call us to pick it up. It's that simple!

At Do It Yourself Dumpsters, we take away just about any waste you can think of. Some examples of the junk we haul away with our Columbia dumpsters include refrigerator disposal, construction waste removal, television disposal, and recycling, garbage removal, yard waste removal, furniture removal, mattress disposal, trash removal, E-waste disposal, foreclosure cleanouts, appliance removal, and hot tub disposal. If you don't see your trash on that list, don't count us out just yet! Give us a call at (615) 290-2029 to see what we can do for you!

Columbia Dumpster Sizes for Every Job

Finding the perfect Columbia dumpster can be difficult if companies don't offer the right size dumpsters for your project needs. Here at Do It Yourself Dumpsters, we are proud to say we offer various sizes of roll off dumpster Columbia TN options that are guaranteed to get the job done! We have large and smaller-sized dumpsters all conveniently available based on your project. Some projects just have more waste than others, and that's why when you rent with us, all of our dumpsters start at the same price! No penalties for having more waste here.

If you are looking for an affordable and convenient Columbia dumpster, look no further than with our team of experts. Our various sizes of roll off dumpster rental Columbia TN will be exactly what you need to dispose of your waste. Our small dumpster rental Columbia is a 10 yard container starting at $550. These containers are equivalent to about three pickup truck loads and can be rented for up to seven days. Its open-top access is convenient for your waste disposal.

When a 10 yard dumpster is too small and a 20 yard is too big, our 15 yard dumpster is exactly what you need! This is our medium size Columbia TN roll off dumpster that's perfect for those projects that are right in the middle. This container holds six pickup truck loads and can also be rented for up to seven days for a low price of $550.

Our largest dumpster we offer is a 20 yard dumpster that can hold eight pickup truck loads. Finding a large roll off dumpster rental in Columbia can be difficult, but not with us. This 20 yard dumpster can be rented for up to seven days with a starting price of $550. It's hard to beat this cost for a 20 yard dumpster Columbia TN. Commercial and residential customers love this dumpster because they know they can satisfy their waste disposal needs with it.


Local Dumpster Rental in Columbia FAQs
We understand there are many factors to consider when searching for the best local dumpster rental in Columbia for your upcoming project, which is why we've compiled a list of frequently asked questions to help provide additional information. Take a look below and get in touch if you have any more questions about how to rent a dumpster Columbia.

1. How much does it cost to rent a roll off?
If you're looking for what it will be to rent a dumpster Columbia TN cost, we're here to provide answers! Our three roll off container size options begin at $550 for a seven day rental and include various tonnage capacities. We understand many people are searching for the cheapest dumpster rental Columbia, but we also provide top quality customer service and durable containers at affordable rates. If you're not sure what size or how many days you'll need the roll off, give us a call at (615) 290-2029 to go over your options.

2. How do I reserve a dumpster?
Reserving a roll off is easy and convenient! Use our online booking tool to browse our dumpster options, choose the best size for your project, add it to your cart, input your drop off and pick up dates, provide contact information, then check out! If you have specific questions or would rather talk to a person about your Columbia roll off dumpster rental, give us a call at (615) 290-2029.

3. What sizes do you carry?
We offer three sizes for our roll off dumpsters Columbia: 10, 15, and 20 yards. The larger 20 yard option is a great fit for a construction dumpster rental Columbia while the smaller 10 and 15 yards are a great option for residential or commercial needs.

If you have any additional questions about our 5-star reviewed options for a local dumpster rental in Columbia, browse our website or get in touch today!
Providing Dumpster Rental Near Me in Columbia & Surrounding Areas
At Do It Yourself Dumpsters, we've been providing top-quality dumpster rental near me in Columbia options for Maury County residents for years. We pride ourselves on keeping our parks, schools, businesses, and neighborhoods waste-free spaces. No one wants to have their day at Riverwalk Park ruined by overflowing trash and we want the students at Maury County Public Schools to grow and learn how to care for their environment.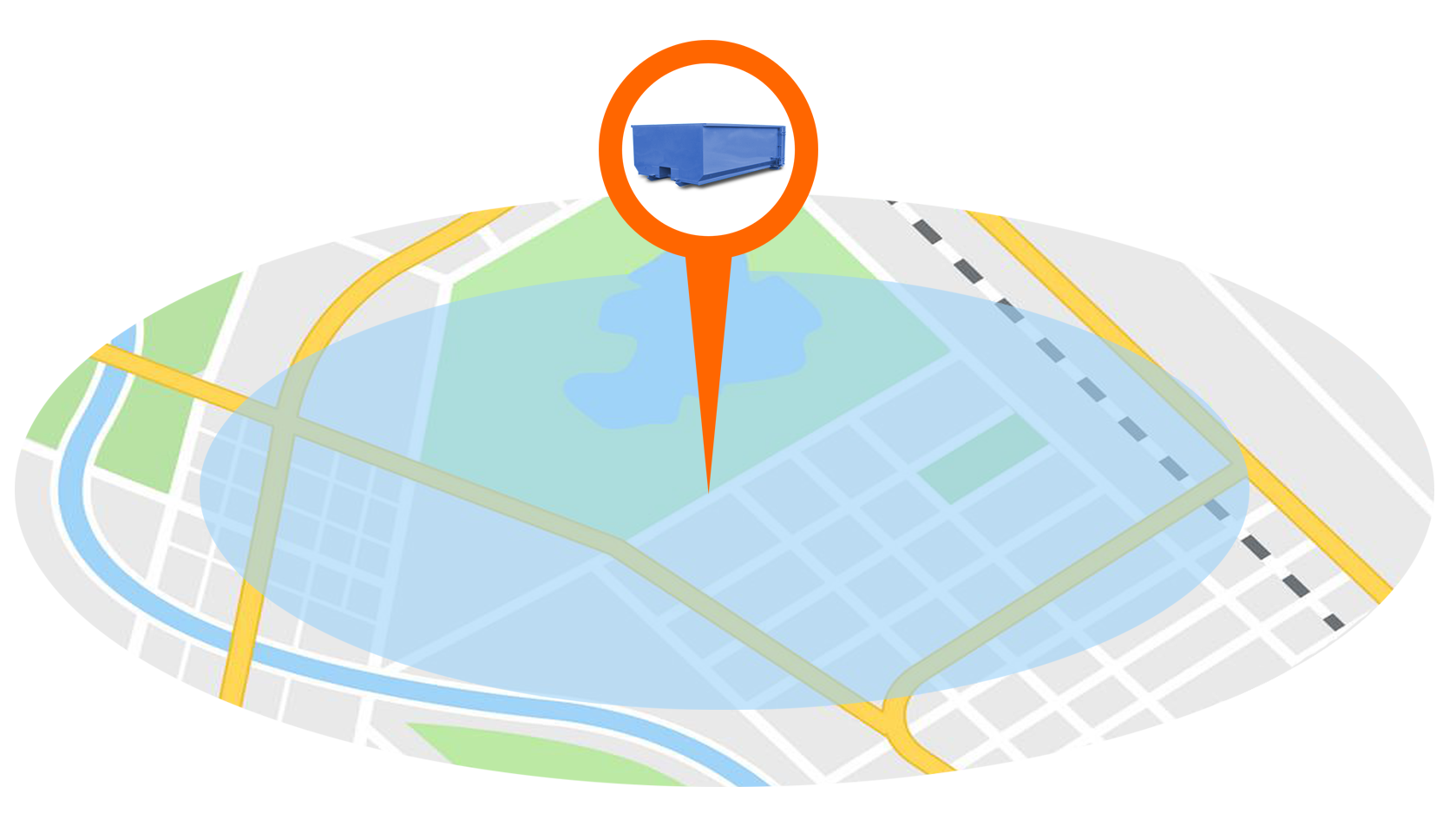 If you've been searching for a city of Columbia TN - garbage dumpster, look no further than our selections. In Columbia, the typical zip code we service is 38401. If that's not your zip code, don't worry, just give us a call. We service areas all over the Tennessee area. Our Columbia dumpster rental company also serves the following cities: Spring Hill, Mount Pleasant, Lewisburg, and Pulaski, Dickson, Franklin, Nolensville, among other areas.

If your project site is beyond that radius, just let us know! Do It Yourself Dumpsters frequently deliver units even farther out. Special accommodations can usually be made to suit your project. Call us today to see if we are the local dumpster rental near me in Columbia you are looking for!
Service Area
Columbia, TN: Landmarks & Local Favorites
Columbia, famously known as the "Mule Capital of the World," is a town rich in historical allure. The James K. Polk Ancestral Home stands as a testament to time, preserving the memory of our 11th U.S. president. Meanwhile, the Rippavilla Plantation offers a glimpse into the antebellum era and Civil War history. And let's not forget the excitement around the annual Mule Day festival, where mule-driving contests, races, and shows captivate locals and tourists alike.
Parks and Outdoor Spaces in Columbia, Tennessee
Nature enthusiasts and families alike find solace in Columbia's stunning outdoor spaces. Maury County Park, covering over 240 acres, is perfect for picnics, playful afternoons, and local events, including the cherished Maury County Fair. For the adventurous, Chickasaw Trace Park is a haven, drawing mountain bikers and trail runners from near and far. If a more laid-back park vibe is what you seek, Woodland Park, with its splash pad and expansive greenery, might just be your new favorite spot.
Columbia's Eatery and Education
Columbia's culinary scene is a delightful mix of flavors. Vanh Dy's offers Asian-inspired dishes set against a backdrop of historic architecture, while Puckett's Grocery & Restaurant serves up authentic southern comfort food that warms the soul. For a cozy diner experience, one can't skip Betty's Parkway Restaurant, known for its hearty southern breakfasts. On the education front, Columbia's commitment is undeniable. Maury County Public Schools lead the way in providing quality education. Those seeking private institutions will find Columbia Academy and Zion Christian Academy meeting their needs, offering a blend of academic prowess and spiritual grounding.

If you're in Columbia for a project or considering a move, our team at Do It Yourself Dumpster Rentals understands the charm of this city. We're here to manage your waste needs, but while you're in the area, take a moment to delve into the wonders of Columbia, TN.